Amil Byleckie Band!
Indie glam-pop and spandex! Amil Byleckie Band rocks Providence.
You seem to have created a character out of "Amil Byleckie". Tell us about your musical identity and how this glam-pop persona originated.
I've been writing music for a long time under various names and pseudonyms. Eventually, I realized that I was in it for the long haul and that I should probably just own up to it. Its really easy to dismiss something you've made under a moniker of any kind. I guess I started trying to take my own garbage as seriously as I hoped other people would. Soooooo I started using my own name. As for the character Amil Byleckie, I don't really know what to say there. I realized pretty early with the band that I would need to bring a certain level of showmanship to our performances to try to minimize the trauma for both the audience and me. I do this Clark Kent glasses ritual thing before we go on stage and definitely unhinge the most exhibitionist aspects of my personality.
How do you describe your music and what do you wish to convey through it?
I pretty much always just call it pop music. I don't know what that means but people usually fill in the blanks for me when I say it. I probably want what every songwriter wants, I want people to hear my music and connect with it.
You're song-writing skills really stand out. What are your songs about?
Thanks! Each one is pretty different thematically but I suppose most of them could be categorized as about either love, lust or lies.
What are your musical influences?
My major influences are always the musicians close to me. But I also really love pop music from the seventies. That was the golden age of pop bands. I'm really into the American minimalist composers; I think I've taken a lot of notes on polyphony and counterpoint from those guys.
You compose and produce your music. What inspired the decision to create a full band for Amil Byleckie?
I guess I always wanted to have a band, but I think what finally prompted it was an awful solo-performance using pre-recorded backing tracks. It was just the worst. I realized that I needed to either stop performing live or get some actual human people interested in playing my songs. I still write and produce music by myself largely, but that's mostly because I can't have everyone around every time I want to record a song. I mean, I record every day; they would get so pissed at me!
"It's a weird feeling being ogled by audiences, but I think ultimately people need to be confronted by guys in spandex sometimes. They wouldn't think twice if we were women, and that's messed up. Men are objects too. Or none of us are."
You have a heavy visual element to your music and live performance. Tell us a bit about this.
Ok, so this is something of a super-group. And before you yell at me that Providence is so small that every group is a super-group, I think its important to note that this band actually has super powers. I mean look at us. J.D. Fontanella really has the hardest job in translating my songs (which are basically just synth-laden polyphony) into these immensely rich patches that he just shreds out on his home-made hacktar. Cordey López and Diego Pérez make up the rhythm section. Diego is one of my oldest friends in Providence and I kind of forced him to join this band, but I think he's warming up to the idea. Cordey is a brilliant musician who came to Providence for college then made the mistake of staying. He's constantly schooling me in music theory and pushing my songwriting.
You have a heavy visual element to your music and live performance. Tell us a bit about this.
We realized pretty early on as a band that some visual elements were definitely going to be necessary. I mean, bands can be pretty boring to watch. When I started performing these songs solo, I would wear this tight body suit and kind of squirmed around awkwardly and people were pretty into it. I think it was Cordey who suggested that I should make the bodysuits for the rest of the band. It's had a bigger impact on our audiences than I anticipated. They are BY FAR what we get the most comments on.
What can people expect out of an Amil Byleckie live show?
One reviewer claimed that when we started playing everyone who wasn't already familiar with us fell into a state of mild shock. I think that's pretty observant. We put a lot of energy into our performances. All four of us are front men and natural performers; I think that comes across in our shows. There are a lot of weird personalities bouncing around up there… wrapped in spandex!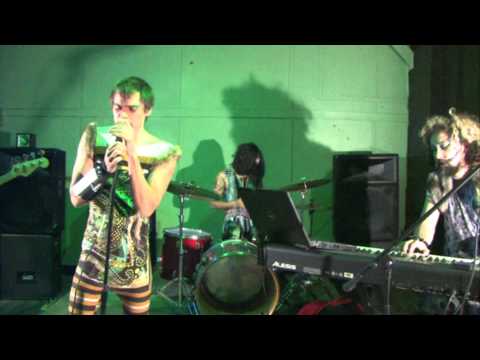 What was your most outrageous experience performing live?
I actually don't know. I'm trying to think of something catastrophic or huge that's happened, but I don't think we've ever had anything truly crazy happen to us while playing! BORING! We played a Halloween show where J.D performed on stilts in this ridiculous avatar costume that he made out of liquid latex and a ton of blue paint. That was pretty outrageous, mostly because he stayed on the stilts all night after we played and left blue paint stains on everything. And that he didn't fall over after drinking two barrels of beer.
"Music can start revolutions or ease sorrows or kill plants or sell smoke detectors; its pretty versatile stuff."
What is your view on music? What is it for and what can be done with it?
Music has as many uses as there are people listening to it, multiplied by all the different times they do. Music can start revolutions or ease sorrows or kill plants or sell smoke detectors; its pretty versatile stuff. I try to use it to relate to people, if I can write a song about being in love that makes someone feel great about being in love then I've succeeded. But when I'm performing live I just want people to wiggle around and have a good time. Playing music, recording, writing songs is like meditation or therapy or something to me. I need to do it to feel grounded; I get totally out of balance if I don't.
How's the music scene in Providence?
The music scene in Providence is fickle and weird. It changes a lot, which is good; there are a lot of bands for such a small city, definitely a lot that I'm excited about. There are more DIY venues popping up all the time, and I think they are totally vital to experimentation. So yeah, I think its pretty good, I wouldn't say it's the best its been since I've lived here but its not the worst either.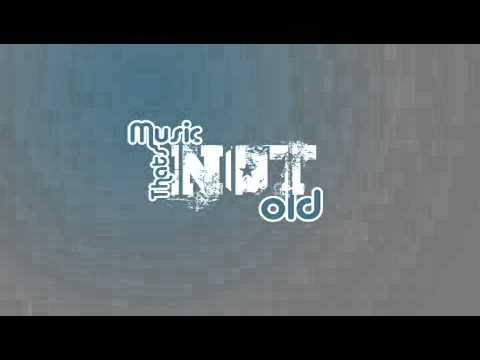 What's it like to play glam-pop in Providence?
It's the best! There aren't a lot of glam-pop bands in Providence, we might be the only one actually. I love playing fun synthy pop music for people to freak out to. Sometimes people don't want to freak out because they're boring, but I think that probably happens everywhere.
Any new albums expected this year? We heard a few rumors about possible music videos soon.
I've been recording my third EP for the last four months. I'm just about done tracking it and plan to deal with mastering in the next month or so. I'm working with a super talented director on a music video that we're going to release with the album. We're still only in the planning phase so I'm not sure when exactly the EP will be available for download.
When are your next shows and what can we expect from Amil Byleckie in 2011?
We just agreed to play at Michael Kurt's show called Q:30 on June 18th in downtown Providence. That's the Saturday of Pride Week which should make for a crazy time. We also were asked to play AS220's Foo Fest this summer, which is exciting. This is intended to kick-off a tour for us. I'm not sure about the details yet, but we'll probably play in the surrounding cities. Our plans for the band are to stay together and keep loving each-other! We're beginning work on a crop of new songs that are being written in a more collaborative way to really take advantage of the sound we get as a group. Ultimately, we're just going to keep doing what we're doing: playing shows, having fun, and weirding people out.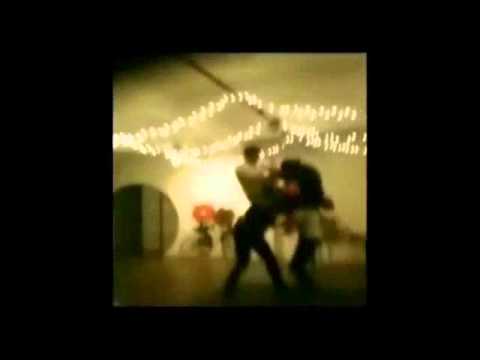 Check out Amil Byleckie Band's awesome indie glam pop here!
w