Erotic Salsa Days: The Eddie Way


Reviving Eddie: Puerto Rico is Retro-Cool [part II]
"Erotic Salsa Days: The Eddie Way"
Let's go back to Hurricane Hugo in Puerto Rico in 1989.  I remember being at my grandma's house, watching the strong winds rip out a Malta India billboard from the colmado across the street.  My mom was pregnant with my brother; about to give birth that same month. As a four-year-old first-born, I couldn't help but wonder if the Hurricane was a bad omen about the new sibling. However, the main memory I retain of that day is sound; The sound from a cheap battery-powered radio that played Eddie Santiago's song "Lluvia" amidst the static,  heavy rains, and devastating winds.
Today's retro inclination reveals that salsa singers and pop-culture icons have resurrected as memes of Puerto Rican media culture.  One of the many YouTube searches of drunken nights in Puerto Rico is Eddie Santiago, who gained fame in the 80s as the ladies' man of romantic-erotic salsa.
Eddie Santiago launched his career in 1984 as part of the second-wave revival of salsa music through raunchy, romantic ballads. This style later gained the name of  "romantic salsa" or "erotic salsa" due to its sexual lyrics and the sensual rhythms that called for close dancing. Hit singles such as "Tú me quemas", "Lluvia", and "Qué locura enamorarme de ti", aroused the passions of hair-sprayed, shoulder-pad clad girls with blue eye shadow and star-struck eyes. Other icons of the time were Lalo Rodríguez, Frankie Ruiz, Luis Enrique, and Willie González.
Eddie was 'it'. He was the ladies' man with his shoulder swing and bright voice. He could pull off a white suit with shoulder pads and still make the crowd scream. His songs communicated desire and adventure, a cruel passion; they constructed an image of a cold yet sexual woman who was in control of her sexuality and drove him to lose control and break sexual inhibitions. He desired her, she drove him crazy. It is presicely this image of femeninity that seduced the audience of the time. The women of the era wanted to be her. They wanted to be cruel and sexual and desired. This is how salsa gained a wider female audience.
During the early 1990s, the huge popularity of erotic salsa diminished as the stronger rhythms of Dominican merengue and bachata populated the mainstream musical scene.  However, salsa did not die and gave way to new artists that incorporated other genres and created musical fusion. Some recognized names of the 3rd wave are Jerry Rivera,  Gilberto Santa Rosa, Victor Manuel, Michael Stuart, Marc Anthony. Female singers began to rise as well and La India took the throne.
In 2004, Eddie Santiago announced his return to the music scene by launching his most recent production, titled Después del silencio, for which he won a Grammy award in 2006. He currently lives in Miami. No news has followed, but the sudden nostalgia in youth culture has crowned him a cultural meme. Although a return may seem like a far off possibility, Eddie's vintage image made its mark in Puerto Rican culture and still resonates in the velloneras throughout the island. Perhaps its better this way, since its easy to fall in love with a memory. When the present invades with the reality of its age and time, the memory loses its glamour and fantasy. Like the image of eternal youth in which we have cryogenically frozen Debbie Harris in our minds, the vision of Eddie will also remain forever young in our collective mental museum as another diorama of our identity.
Eddie Santiago has a blog about salsa music that can be accessed at  www.eddie-santiago.blogspot.com.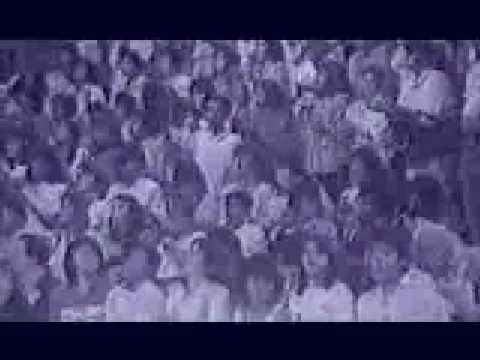 Read the rest of the "Reviving Eddie: Puerto Rico is Retro Cool" series:
Part 1: The Retro Style of "Criollo Cool"
Part 3: The Iris Chacón Show
Part 4: The Golden Era of Television in Puerto Rico
Lalo Rodríguez was another erotic salsa singer. Eddie Santiago covered Lalo's "Devórame otra vez".  Here is a video of Lalo Rodríguez singing this song during a T.V. appearance.
w