Nalgada de Oro's Return
While the rest of the country was busy preparing itself to say goodbye to 2010, the band Nalgada de Oro decided to come out of retirement, release an album, and have a performance to celebrate it.  The trio has been a part of the Puerto Rican punk scene since the 1990s. After several years in hiatus, they emerged out of nowhere in July 2010 to perform a live show and announced that they would finally record an album of their old material.
The band has been a distant memory in the back of the minds of the island's music scene for the past fifteen years. So when another show was announced to take place on the day before New Year's Eve, there was a healthy buzz in the air. The event took place at Red Shield, a club/record label in San Juan, and also featured the bands Lopo Drido and Descojón Urbano, along with a DJ in between sets. In honor of the headliner band, even the DJ played retro-punk and Latin rock.
The energy in the club was reminiscent of a high school reunion, except all of the attendees actually liked each other and were having a great time talking about the "good old days". When Nalgada de Oro began to play, they were only able to get about two songs in before a neighboring business issued a noise complaint and the band was forced to stop playing for a about ten minutes. After the forced intermission, the show went on as planned: Good quality punk with no bells and whistles; just the way it should be.
Nalgada de Oro joked at the beginning of the show that this would really be their last show, but their faces expressed otherwise. The band gave out free copies of their self-titled CD to everyone at the entrance as an added bonus to their performance. We have yet to see if they decide to keep doing "seriously-this-is-the-last-time" shows for a little while longer.
Memories of the band back in the early 90s :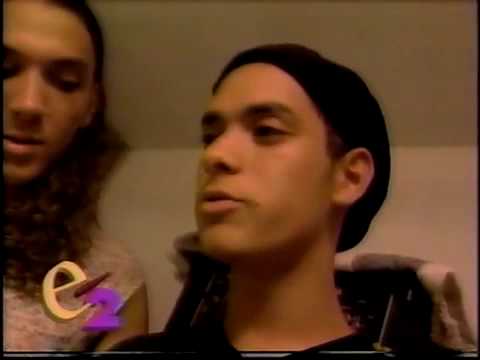 w